Why choose the Costa Del Sol for a holiday?
The quickest and most honest answer to this question is why on earth wouldn´t you? If Southern Spain is on your travel wish list, we've pulled together the top 3 reasons to include the beautiful Costa del Sol on your itinerary. From year-round sunshine to a wealth of things to do, great food, well-equipped beaches, and plenty of day trips, Costa del Sol is perfect for families, couples, and friends.
The magnificent golden beaches that adorn the Costa Del Sol
´Don´t worry – beach happy´ There are an impressive 120 to choose from, lining a total of 161km of Mediterranean coastline.  Spending time soaking up the sun and enjoying the beach is one of the greatest joys of summer in the Costa del Sol and something the team at HomeCarePropertyManagement love to do on their days off. Not only does the beach offer you the opportunity to disconnect from the stresses of everyday life, it also has a range of health benefits for our mind and body.  The top three beaches as chosen by our team are:
Carvajal Beach
This beach, located in the town of Fuengirola, is right at the end of the promenade of the city, and it is one of the beaches that you cannot forget to visit on your holidays. This beach is totally urbanised and for this reason, you can mix swimming with the beach bars, where you can enjoy a cool beer in these hot days. This beach is perfect if you visit it with the little ones at home, as you can walk and walk along the shore for metres and metres without being covered by the water. 
El Faro Beach
This beach is located in Mijas, in La Cala, a corner of the Mediterranean Sea little explored by tourists on the Costa del Sol. This part of the coast is where the residents of the municipality of Mijas tend to go, who want to get away from the crowds of umbrellas and towels, as happens on so many other beaches in the province. Here you can relax in clean water and enjoy panoramic views of the Costa del Sol.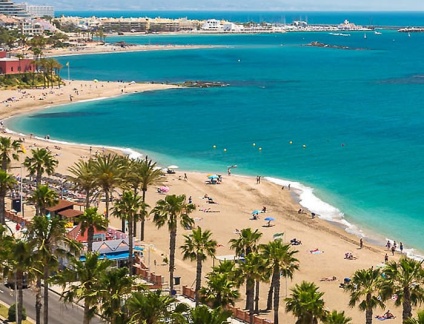 La Malagueta Beach
Between the port of Malaga and the beaches of La Caleta, is the famous and well known beach of La Malagueta, very popular in the city, so it is usually very crowded.  A wide variety of beach bars, an excellent lifeguard and lifeguard service, cleanliness, beach umbrella and sun lounger rental, and a youthful atmosphere make La Malagueta one of the most popular beaches in Malaga. Its waters have recently received the Blue Flag quality certification.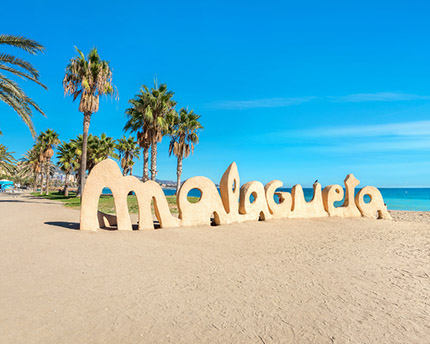 2.                         Food, food and maybe some more food!
´This is a great way tapas the time´ Costa del Sol is one of the only places in Europe, where you can be sure to enjoy outdoor dining all year round, something that the team here at HomeCarePropertyManagement do whenever they get the chance.   Malaga's culinary richness never ceases to amaze, and choice is aplenty when thinking about where to eat on the Costa del Sol. For many, the eating and drinking of a holiday in Spain is the best part. From "pescaito" (fried fish), prime fillet steak, salty gambas (unpeeled king prawns) and home-made summery gazpacho (cold, tomato based soup), food on the Costa del Sol is as fresh and tasty as it gets in Spain.  Most Costa Del Sol restaurants focus on popular Spanish cuisine in all its original glory, while others serve up modern twists of classics to offer something new and exciting. The very best Malaga restaurants serve up the best of both worlds – traditional dishes and avant-garde concoctions – to spectacular effect. Thankfully, these are high in number.  The following restaurants come highly recommended by our management team:
Ponchos Steakhouse in Fuengirola:
If you love meat this is the best place in town.  You are guaranteed excellent service, friendly and professional staff and mouth watering high-quality meat which is always cooked perfectly.  The standards of this restaurant are rock solid.. Top tip – Make sure you book a table, it gets fully booked most nights.
El Olivo in La Cala De Mijas
This beautiful restaurant has different spaces that are adapted for each season. They have cozy interior rooms with a fireplace and also a large terrace ideal for summer meals.  The food is always cooked to a really high standard whether it be the fish classics all the way through to the avant-garde concoctions.  Top tip – A bottle of the Chinchilla Cloe (chardonnay) is a perfect accompaniment to any white fish dish they serve.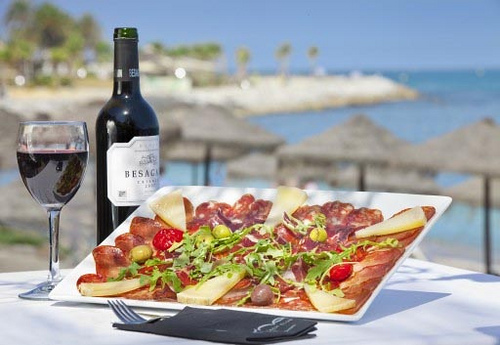 3. Having fun in the sun!
While you may be heading to Costa del Sol in Spain to relax, know that there is an abundance of outdoor activities, too! The awesome weather is perfect for boating, jet skiing, and other fun water sports.  There is also plenty of hiking, golfing, and more if you'd prefer to stay on land. Honestly, our favourite thing to do is simply walk along the boardwalk and take in the sunshine but the following recommendations are particularly helpful if you have children with you:
This fun-filled  water park is situated in Torremolinos and only 15 minutes away from the centre where both the train station and the bus station are located.  In this water park you can enjoy the fun and entertainment that the biggest water park on the Costa Del Sol provides, where you´ll find numerous water rides including the latest attraction, the 'Boomerang'.
Aqualand Torremolinos has a restaurant, several stands, green areas, sunbeds and even an 18-hole mini-golf. Amongst the most popular attractions you´ll find the wave pool surrounded by green areas and sunbeds, a playground for kids and a Jacuzzi-style pool where you can relax as long as you want.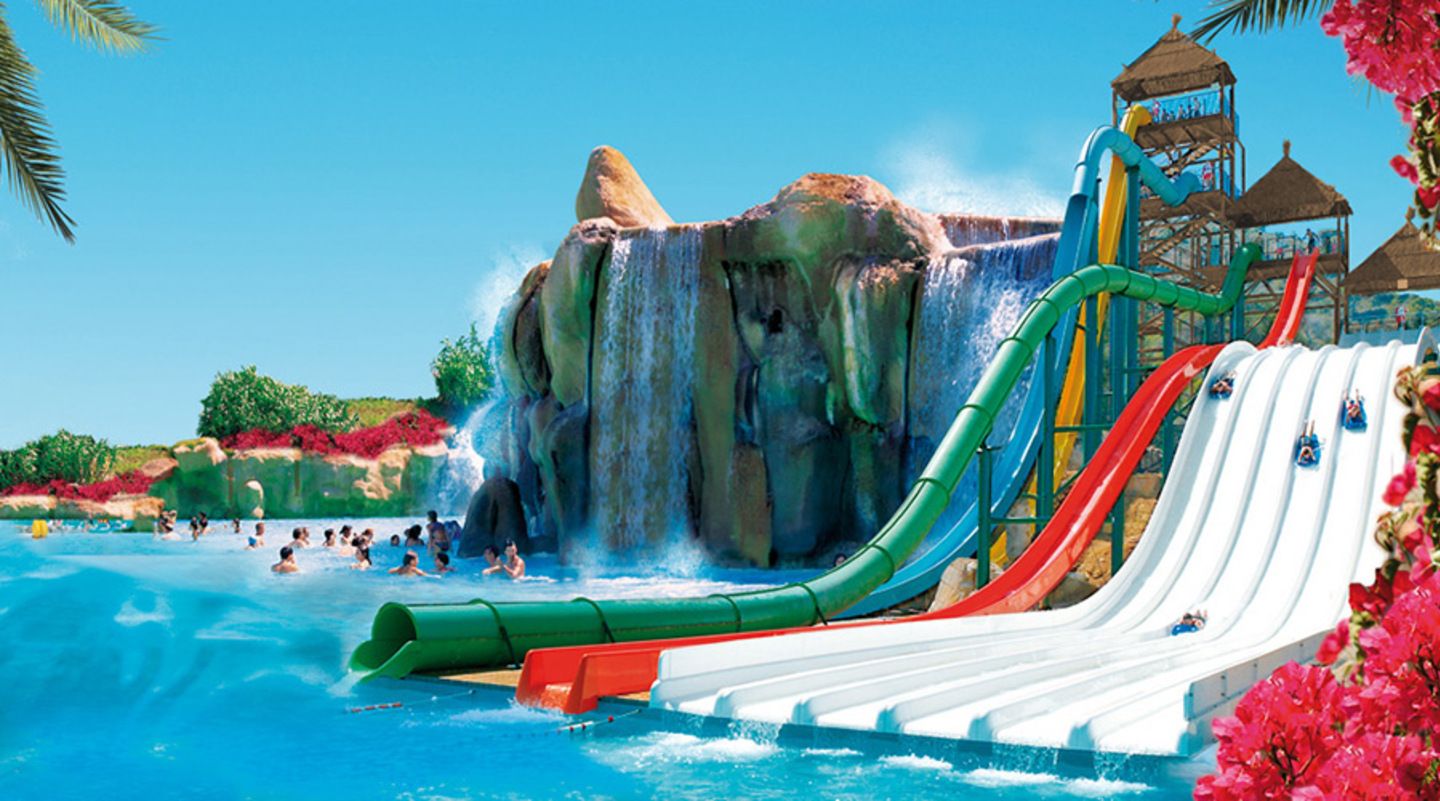 The children's favourite, this is a zoo where the animals live in a recreation of their natural habitat, encouraging their development. There are four different areas: Madagascar, Equatorial Africa, South-East Asia and the Indo-Pacific. In total, more than 200 animal species live in Bioparc. Many of them are endangered or at risk of becoming endangered.  It offers activities relating to nature conservation and the chance to see how animals like the Komodo dragon or the large primates are fed and exercised. There is also a gift shop, children's area and restaurant.
Hire the Bombay Sapphire from Fuengirola Port
The BOMBAY SAPPHIRE is a 13m sailing yacht which sails daily and can be hired to go dolphin watching, or to enjoy a relaxing and majestic sunset cruise.  Each cruise includes unlimited food and drink on board.   John and his team are great fun, really knowledgeable and will make sure you have a great time on board.
https://www.tripadvisor.com/Attraction_Review-g315915-d14069214-Reviews-Dolphin_Bombay_Sapphire-Fuengirola_Costa_del_Sol_Province_of_Malaga_Andalucia.html
Find holiday villas in Costa del Sol & discover why it's one of the world's top holiday destinations with 100 miles of coastline.